Anhalt-Bitterfeld-Wittenberg Regional Energy Balance District
Scenarios under the consideration of coordinated land use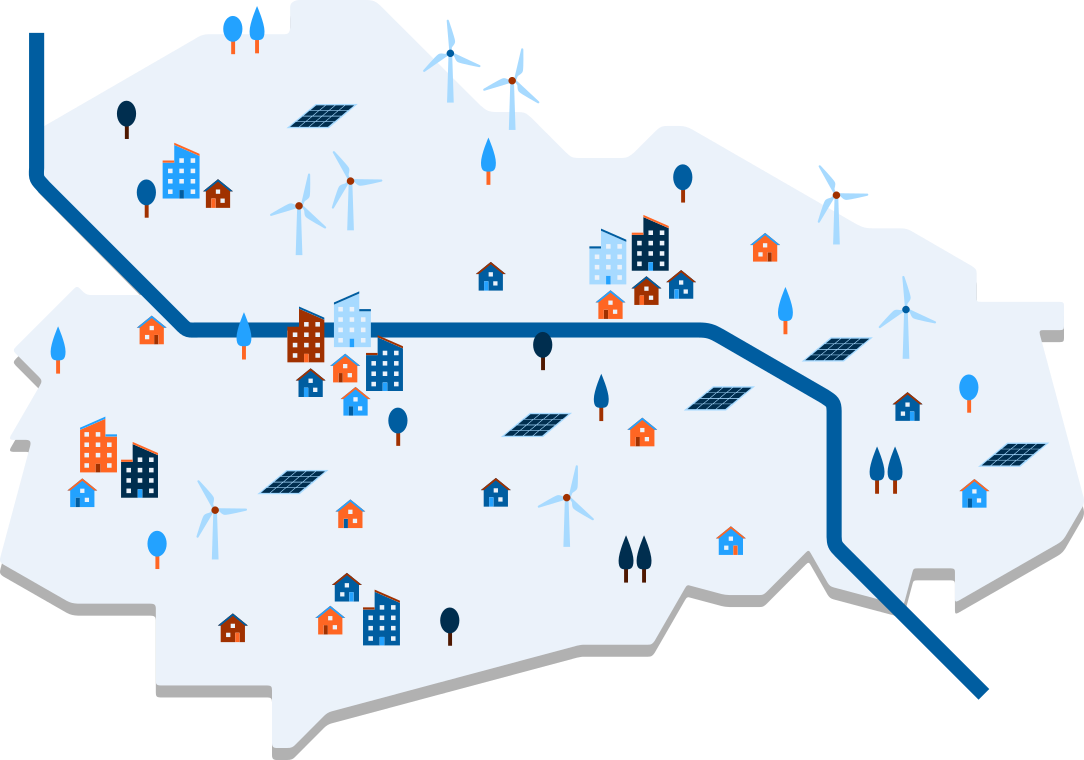 An important aspect in meeting the climate targets for 2050 is the participation of citizens. However, the complexity of energy systems and the associated issues often make the participation process significantly more difficult.
The scenario calculator enables all interested stakeholders to gain a better understanding of various scenarios of the regional energy balance district. In addition, the effects of the measures taken can be directly determined. This creates the basis for an equal discussion and enables collaborative decision-making.
How could a renewable, sector-coupled energy system for the region look like in the future?
Participation
Regional actors, especially citizens, should be encouraged to participate in shaping the energy system transformation in the region ABW in a appropriate, serious way. The complex connections can be experienced and discussed through clear and vivid design as well as suitable guidance.
More efficient methods
The transformation of the regional energy systems can be promoted more efficiently with improved negotiated results. The overall result enables better planning and approval of renewables.
A deeper insight
This tool will not only help to better explain the connections between different systems of the energy industry, ecology, and cultural landscape, but will also make the interests and values of the regional stakeholders visible. Mutual understanding is growing especially when opinions differ.
Open science
Data and source codes are made available to all interested parties. This creates transparency and reproducibility. In addition, the implementation of similar tools can thus be facilitated.
Get an overview of your region
How many people live in the municipalities?
How much electricity comes from renewables?
How many wind turbines are located in the municipalities?
What impact does this have on the surface?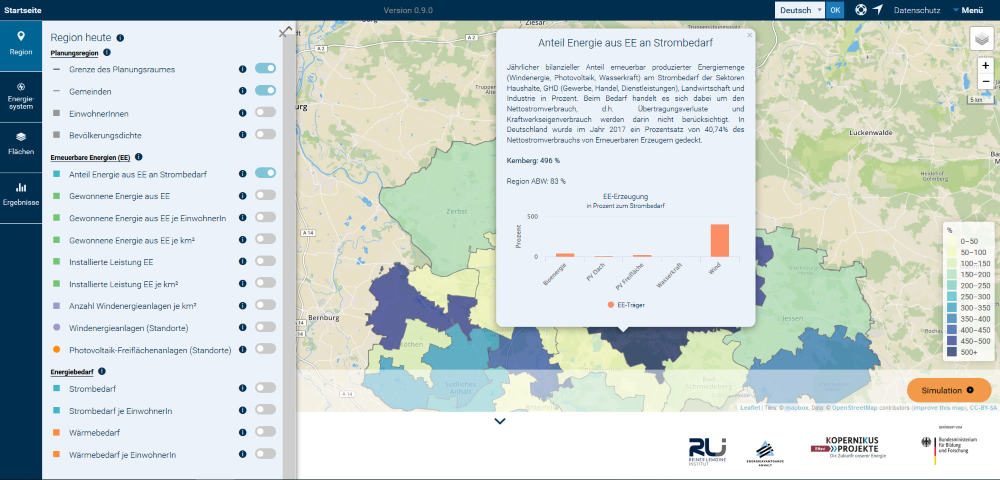 Define your own scenario / energy system
Explore the region's energy system
Select an expansion scenario for wind energy
Adjust the share of wind energy, photovoltaic, and biomass plants or conventional power plants
Adjust the consumption of the region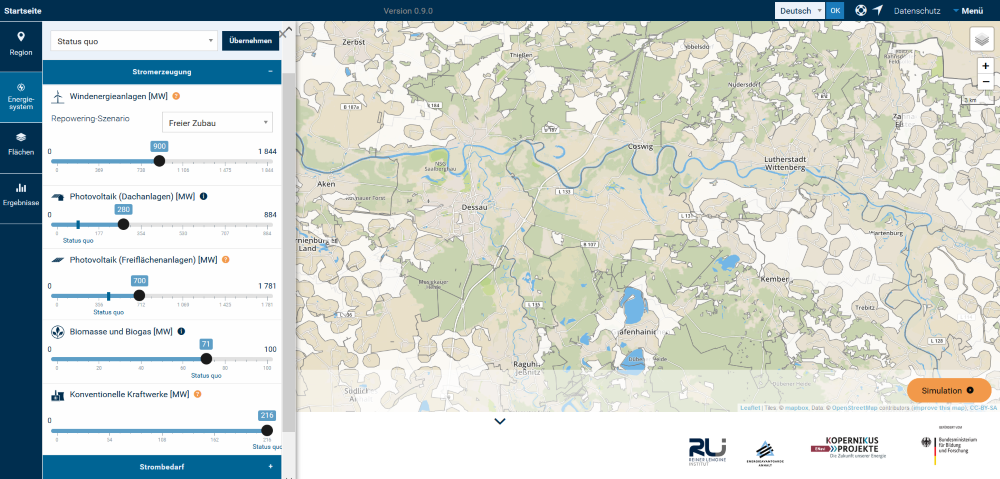 Adjust the areas for wind energy
Take a look at existing priority areas for wind energy
Take a look at the prohibited zones for wind energy in this region
Decide whether the minimum distance to residential areas should be adapted in order to be able to build more wind turbines
Decide whether forest areas should be available for the construction of wind turbines
Observe the effects on the map and on the possible electricity generation of the energy system.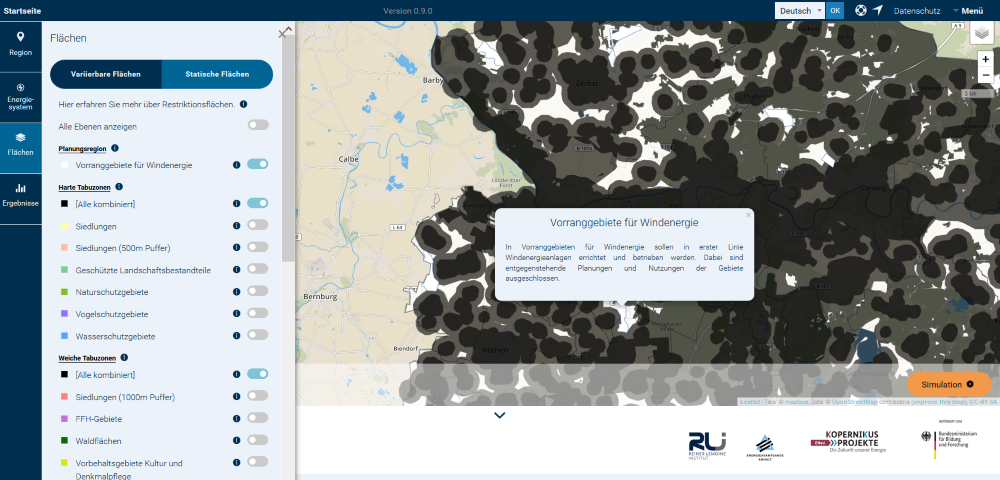 Compare the results with the status quo
How is the share of renewable energies in the municipalities and the region changing?
How many wind turbines per km² will be added?
How are import and export of electricity changing?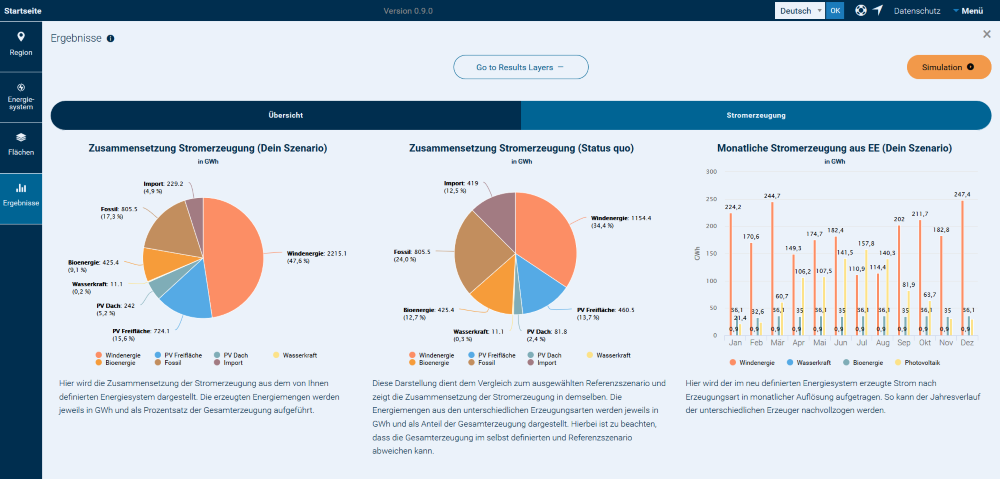 Get involved!
Documentation
Further information and background information can be found in our documentation at ReadTheDocs.
Source code
The source code is available on GitHub is freely available under the GNU AGPL v3 license.